"I am not a typical tourist. I enjoy meeting new people and discovering new cultures and customs. I like walking and participating in outdoor activities but I'll admit it, I prefer my comforts, less strenuous and demanding exercise... and I like my rum at the end of the day."

MYSTERIOUS GUAJIRA
Discover the Wayúu, who live in the arid lands of the Guajira, the northernmost part of South America and the exploration of the Sierra de la Macuira, a surprising oasis of life, full of endemic flora and fauna in the heart of this desert.
5d/4n, 4WD


BIRD WATCHING
A journey to observe the endemic species of the Caribbean coast of Colombia accompanied by a biologist, specialist of the area.
Packages from 1 to 12 days

SIERRA NEVADA de SANTA MARTA
Short hikes in the spiritual hearth of the Sierra Nevada de Santa Marta, based in Nabusimake, the Arhuaco capital.
3d/2n

SCUBA DIVING
Dive, o learn to dive, with a professional marine biologist and enjoy the exhuberant submarine life of the Caribbean Sea in the Santa Marta area and Tayrona National Park.
Daily excursions.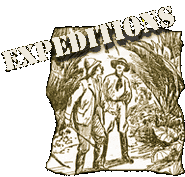 "I am a modern-day explorer. When I put on my Indiana Jones' hat, nothing can stop me. I like to explore the unknown, go places few have gone, see the unseen, I don't care if I don't know where or when I am going to eat or sleep. I am a team player and I can adapt to and endure almost anything."

JUNGLE OF THE DARIEN
An exploratory expedition in the most isolated and humid jungle of the planet, through lush vegetation, marshes, rivers and 100m high waterfalls, to meet the Embera Indians
5d/4n Trekking and canoeing


SCIENTIFIC EXPEDITIONS
We organize all kinds of scientific, photographic and archaeological expeditions
in Venezuela and Colombia. All phases of planning, logistics, operations, guides, etc.

Why Colombia

About us

Testimonials
French / English
"I have an active lifestyle. When I want to take a break from my 9 to 5 routine, I go outside to play. I keep myself in relatively good shape and often select my vacations to engage in outdoor activities like hiking, sailing, kayaking, where I can at the same time discover new places, challenge my body and have a great time."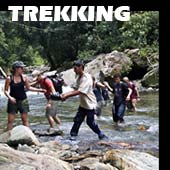 TEYUNA,
THE LOST CITY
A South American classic
A journey into the heart of the jungle in the Sierra Nevada of Santa Marta, to explore the ruins of the lost city of the Tayrona.
Trek 5d/4n
with bilingual guide,

TAYRONA NATIONAL PARK
is famous for its numerous secluded, white sand beaches, but is also the site of the arqueological Tayrona ruins of PUEBLITO CHAIRAMA. Three days hike across the park to discover all its hidden secrets.
Hike 3d/2n
Tours starting with 2 persons, with bilingual guide

SIERRA NEVADA DEL COCUY
A trek through a mountainous landscape of lakes and glaciers with the possibility of reaching a summit of more than 5000 meters
Trek 7d/6n